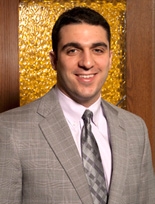 Rod Strata joined GDK in 2012 as an associate, and is involved in the sales and service of life, health, and disability income insurance. Prior to joining GDK, he was employed in the healthcare industry and by Mount Union College in their Recruitment area.
He is a recent graduate of the Walsh University M.B.A. program, with a concentration in Management. He completed his undergraduate education at Mount Union College in 2009, receiving a Bachelor of Arts degree in Business Administration with a minor in Accounting.
While attending Mount Union, Rod was involved in a number of campus organizations, including The Dowling Mentor Program, Tau Pi Phi Business Honors Fraternity, and Investment Team, and participated in a number of intramural sports teams.
Rod resides in North Canton, and is a member of the North Canton Jaycees and supports activities sponsored by the North Canton Chamber of Commerce. He is an avid sports fan, and enjoys football, golf, skiing, and a variety of other sports.