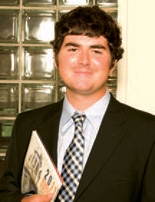 Quinn joined GDK in 2011 as an associate, directing his attention to the sales and service of life insurance, health insurance, disability income insurance, and long term care insurance.
He is a recent graduate of Malone University with a Bachelor of Arts degree in Business Administration and a minor in Economics. While attending Malone, Quinn was named to the NAIA Academic All-American Golf Team in 2011 and to the Academic All-American NCCAA Golf Team in 2009 and 2010. He was a 4-year member of the Golf Team and a 4-time medalist during his college career. He is a past member of Malone's Students in Free Enterprise and the Debate Team.
Quinn is a member of YStark! and JAX, a Board Member of the Church Sports and Recreation Ministers (CSRM), and coaches the Hoban High School Boy's JV Golf Team. He has volunteered time to the First Tee of Canton, First Friends Church Sports Ministry, Lighthouse Ministries, and Refuge of Hope Ministry.
Quinn continues to enjoy golf. He and his wife, Marissa, are active in their community and their church, DaySpring Christian Fellowship.