Jordan D. Greenwald, CLU®
Principal
Registered Representative
M Holdings Securities Inc.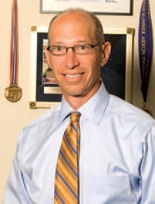 Jordan is a corporate director of GDK & Company, specializing in complex case design for estate planning and corporately owned life insurance. He is involved in direct client sales, and works with business owners and professionals, closely held companies, law firms, and colleges establishing personal, executive, and voluntary plans.
He joined the firm in 1989 as an associate and was made a director in early 2005. He has been a Chartered Life Underwriter since 1998 and is a member/shareholder of M Financial Group, a national network of independent financial service firms.
Jordan has a Bachelor of Arts degree from Ohio State University. Prior to joining GDK, he was a case design specialist at M Financial Group in Oregon and a marketing specialist for a large insurance company in the East.
Jordan currently serves as Chairman of the North Canton Civil Service Commission and as a member of the North Canton Chamber of Commerce Board of Directors.
Jordan is an avid runner, having completed several marathons, and enjoys golf and skiing. He resides in North Canton with his wife, Terri, and their three sons.